NC GreenPower Solar Schools Program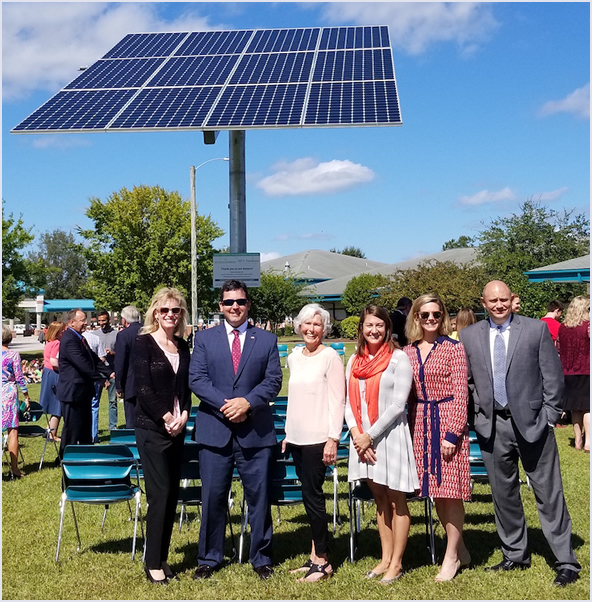 Approved by Board of Directors: 2015 & 2017
SECU Foundation teamed up with NC GreenPower to help expand the development of renewable energy sources through a program geared to benefit North Carolina public schools - The NC GreenPower Solar Schools program.
SECU Foundation initially provided funding to award $10,000 matching challenge grants to K-12 public schools that met GreenPower's program requirements for the installation of a pole-mounted solar PV system on school campuses. This matching challenge grant helped qualify each participating school for a 5kW solar array system, which offered an educational tool in the classroom, as well as an energy impact that would likely produce enough renewable energy to power a school's main office. Fourteen schools participated in the pilot years of the program from 2015-2017.
In 2017, SECU Foundation agreed to provide a two-year $150,000 challenge grant to be awarded in 2018 and 2019 for up to ten K-12 public schools to earn the opportunity for a solar array system to be installed on their campus. This support will decrease the school's fundraising requirement to $5,000, helping reduce the financial burden for economically struggling schools and communities. Solar Schools' participants reaching their funding commitment will be awarded challenge grant assistance to build a 3kW or 5kW pole-mounted solar PV array system, complete with monitoring equipment and grade-level appropriate curriculum for students to gain firsthand experience in the classroom about the production of renewable energy.
NC GreenPower oversees all aspects of the Solar Schools project, including participant applications, program criteria and school selection, cost proposals, training and educational materials.