NC State Highway Patrol Caisson Unit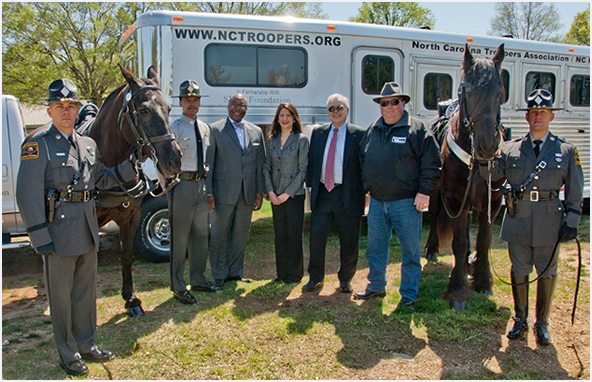 Approved by Board of Directors: 2008 & 2012
The NCTA/NCSHP Caisson Unit is a partnership between the North Carolina Trooper's Association and the North Carolina State Highway Patrol. The Caisson is a horse drawn military wagon that is used to transport a funeral casket. It is also well known for its use at Arlington National Cemetery where it has carried fallen soldiers and former United States Presidents to their final resting burial.
SECU Foundation provided funding for the purchase of new service units to be used by the NC Troopers Association/North Carolina State Highway Patrol (NCTA/NCSHP) Caisson Unit. Funding assisted in the purchase of two trailers (equipment and horse) and a truck to safely transport Caisson Unit horses, personnel, and equipment to funeral ceremonies for North Carolina law enforcement officers and firefighters killed in the line of duty.
The NCTA Caisson Unit receives no state funding for operation; instead the Unit relies solely on contributions. Contact the NC Trooper's Association at 1-800-446-7334 for more information.